New York City Mayor Michael Bloomberg provided secret grand jury testimony in the case against his own reëlection campaign worker, John Haggerty, Jr.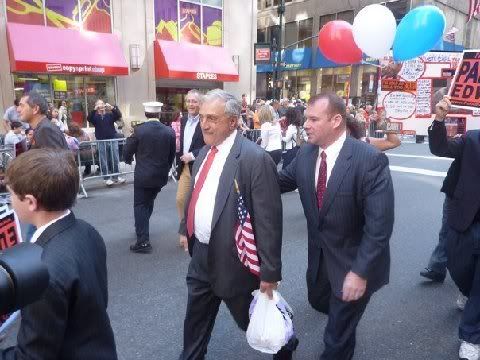 Mr. Haggerty, right, escorts 2010 GOP gubernatorial candidate Carl Paladino during the Columbus Day Parade in New York City on October 11, 2010. Photo by Anonymous.
During public proceedings in the criminal trial against John Haggerty, Jr., Assistant District Attorney Eric Seidel, one of the prosecutors in the case, told Judge Ronald A. Zweibel that Mayor Bloomberg had testified before a grand jury, and that the grand jury evidence supported the state's case against Mr. Haggerty.
In June 2010, Mr. Haggerty was indicted for allegedly stealing $1.1 million in campaign related payments funneled by Mayor Bloomberg through his private banking accounts to the Independence Party of New York State.
In 2009, Mayor Bloomberg was on pace to spend over $100 million dollars in declared campaign expenses through his committee to reëlect the mayor (CREEM). Because there was a backlash at Mayor Bloomberg's outrageous reëlection campaign spending, there must have been some sensitivity within CREEM to substantially exceed $100 million in declared reëlection campaign expenses, ergo the use of millions of undeclared campaign-related expenses from Mayor Bloomberg's personal and private banking accounts.
In 2008, Mayor Bloomberg made private donations to the Independence Party of New York State totaling $1.2 million. Around this time, the New York City Council changed the term limits law without a voter referendum. Then, in 2009, Mayor Bloomberg was endorsed by the Independence Party of New York City.
Ostensibly, Mr. Haggerty was to provide ballot security operations, which is a reëlection campaign activity, for Mayor Bloomberg. Which campaign laws did Mr. Haggerty break, if CREEM knowingly used Mayor Bloomberg's private banking accounts to ''wash in'' money in order to funnel the Independence Party donations to Mr. Haggerty ? What is more, the reporter Aram Roston from PolitickerNY has raised questions about Mayor Bloomberg's pattern in using private donations for campaign-related activities.